News



Since 2005 company Split-service" the wholesale distributor of the goods in the market of Ukraine.


Since July, 25th you can, at pleasure, receive from us an electronic account. This more economical and quickly, than fax variant. Say about this your manager!
Plastic ducts, connection elements Dantec - plast ltd
---
Plastic ducts with connection elements, produced by "Palgal products"(Israel), "Dantecplast LTD"(Israel))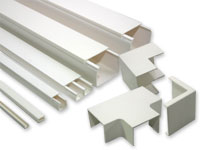 They are intended for arranging the electric wiring, phone lines, computer networks and conditioning Freon mains. They provide additional mechanical and electrical protection to the cables, wires and tubes. In boxes with partition the separate laying of cables of various sizes is possible. It perfectly suits for interior as dwelling as office and manufacturing buildings. Is used firstly where the installation is difficult. The duct construction allows you easy installation of profile and detachable top.
Technical description
Hard, smooth ducts of white color made of hard PVC with high fireproof ability, are certificated in Ukraine as uncombustible materials (corresponded to п. 4.3 ГОСТ 12.1.044-89), produced length - 2 metres.
Sizes: 8x5, 9x5, 12x7, 20x10 (self-adhesive), 20x10, 17x17, 30x17, 30x25, 40x17, 40x40, 60x25, 60x40, 60x60, 75x50, 100x60, 110x50, 120x60.