News



Since 2005 company Split-service" the wholesale distributor of the goods in the market of Ukraine.


Since July, 25th you can, at pleasure, receive from us an electronic account. This more economical and quickly, than fax variant. Say about this your manager!
Dampfers
---
Dampfers produced by "Twitoplast" (Israel).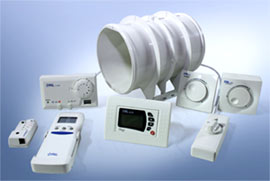 Dampfers are intended to regulate the capacity of air stream in tubes. They manage the air supply to individual user.
The "Twitoplast" dampfers are produced by injection molded method of plastic ABS. This material is stable to corrosion. The insulative qualities of plastic ABS prevent the condensation, and this plastic perfectly fits for using in air-conditioning systems (temperature factor is 0-65°C). The butterfly-type dampfers allows regulating to 90° from closed to opened position.
There are 3 ways of managing possible: mechanical, electrical and termostatical. The mechanical unit of managing consists of hand with the points "open" and "closed". The unit is connected with 2 meters cable with dampfer. The electrical system consists of engine, transformer and switch. The termostatical managing is the most leading regulater of room temperature. It uses the electrical dampfer with electronic wall device OPAL 128DD or remote RC.